James Durkin '14 received Academic All-Big Ten Honors as a representative of the Michigan State Track and Field team (May 31, 2018).
Erin Caton '14 scored four goals, including the game-winning goal with 24 seconds remaining in regulation, to help lead Hope College to the MIAA championship game (May 3, 2017)
Dan Durkin '12 was named Head Football Coach at Suttons Bay High School (April 6, 2017)
James Durkin '14 placed 3rd in the Javelin throw for Michigan State University at the 2017 Spartan Invitational (March 31, 2017)
Erin Caton '14 named MIAA women's lacrosse player of the week. (February 27, 2017)
Andy & Matt Durkin '16 University of Dayon's football roster (August 30, 2016)
Ruairi McGreevy '12 was named to the top 135 player all-fall list (D-1) in the Goff Rugby Report. (November 29, 2015, http://www.goffrugbyreport.com/news/135-fall)
Taylor Timko '14 was named 'Rookie of the Year' by the University of Michigan for excelling in academics and athletics. (April 14, 2015)
James Durkin '14 was nominated for the Terry McDermott – Freshman of the Year award at Lake Superior State University. Durkin runs the 400 meter hurdles, 400 meter dash and throws the Javelin. (April 14, 2015)
Taylor Timko '14: receives Big Ten Freshman of the week honors. Full article here. (October 27, 2014)
Taylor Timko '14 University of Michigan talks about Timko's decision-making. See full article here. (October 10, 2014)
Carly Joseph '13 earned all-academic honors for the women's track & field team at Michigan Tech. (June 30, 2014)
MacKenzie Chesley '11 Former Pontiac Notre Dame Prep Swimmer Part of Record-Breaking Teams at Albion College (January 23, 2014)
Dan Durkin '12 helped Benedictine University in a big football win over Maranatha. (November 9, 2013)
Emily Gray '09 was named to the 2012-13 MIAA Academic Honor Roll. Emily recently graduated from Kalamazoo College and was a member of the Women's Soccer program. (July 8, 2013)
Aaron Knutson '12 hit his first collegiate hole in one and the second in his career. Knutson is a freshman on the University of Detroit Mercy golf team. Knutson Aces hole, looks to improve (April 3, 2013)
Paige Aiello '09 and the Notre Dame second varsity eight won a pair of races at Michigan State against Iowa and Michigan State. No. 14 Irish Claim Eight Race Titles at Michigan State (March 30, 2013)
Anthony Casali '09 led his Michigan State hockey team to the ACHA Division 2 National Championship. Casali was named the National Tournament Most Valuable Player. (March 19, 2013)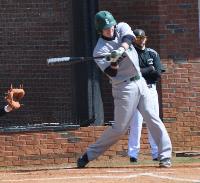 Matt Avromov '12 (pictured left) had two hits in his first two at bats of the season for the Lake Erie College baseball team. Host Limestone Outslugs Storm He started the next game and went 2-4 with an RBI. Lake Erie downed by Greensboro, 7-4 (March 5, 2013)
Brooke Borowski '11 scored a career high 17 points for the Hillsdale College women's basketball team in a win over Walsh University. Much-Needed Win (January 26, 2013)
Sara Barron '12 broke the school record in the indoor mile for Vanderbilt University. Big results on day one at IU (January 25, 2013)
Chris DiFiore '12 has made the University of Detroit Mercy men's basketball team as a walk on.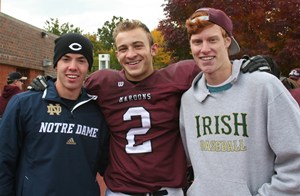 Jake Romeo '12 is playing outside linebacker for the University of Chicago Football. He had five tackles in a 28-9 win over Oberlin College on September 22nd and five tackles in a 10-0 win over Allegheny College on October 6th. Jake is pictured left with Pat Bartoli '12 and Nick Watson '12. (October 9, 2012)
Mark Evans '10 has been named captain of the Aquinas College Men's Lacrosse team for the 2012-2013 season. Mark is a defensive midfielder and face-off man. He scored 5 goals last season and added an assist. He has 11 career goals and 4 assists and has won 55% of his faceoffs.
Quick Sticks: Aquinas College Announces Captains (September 27, 2012)
Sara Barron '12 scored for the Vanderbilt University Women's Cross Country team in a first place finish at the Commodore Classic. Vanderbilt women dominate, men struggle at Commodore Classic (September 16, 2012)
Emily Gray '09 is helping Kalamazoo College Women's Soccer get off to a strong start in 2012.
Women's Soccer plays to 2-2 tie at Adrian (October 13, 2012)
Women's Soccer wins 10-1 at Albion (September 15, 2012)
Overtime goal lifts Women's Soccer to 2-1 win over DePauw (September 7, 2012)
Lizzie Simon '12 has made the Dance Team at Loyola University Chicago. She is one of four freshman to do so. (August 31, 2012)
Rob Healy '08 has been chosen as a captain for the University of Michigan Men's Lacrosse team his senior season. Senior Foursome to Captain Wolverines During 2013 Season
Kyle McMahon '07 is playing football for the Gdynia Seahawks in the Polish American League.
Ex-GVSU quarterback Kyle McMahon guides Polish football team to title in Poland (July 16, 2012)
WHERE ARE THEY NOW: Former GVSU star McMahon leads Seahawks to PLFA title (July 17, 2012)
Paige Aiello '09 has finished her third year rowing at the University of Notre Dame
Irish Varsity Four Finishes Second in Petite Finals at 2012 NCAA Championships; Second varsity eight wins Third Final (May 27, 2012)
Off The Water with Paige Aiello
Molly Coldren '08 finished her softball career at Central Michigan University with four school records (Career Home Runs 44, Career RBI 137, Single-Season RBI Record 47, Single-Season Home Run Record 16).
Senior Class Award
Molly Coldren leads CMU past EMU (May 6, 2012)
Coldren hits Chippewas past Eastern Michigan (May 6, 2012)
Coldren sets CMU softball RBI record (April 25, 2012)
Taylor Aiello '11 played for the University of Michigan women's club soccer team as a freshman. The team was invited to the Collegiate Club Soccer Championships where they defeated the University of Texas (Big 12 champion and defending club national champion) before falling to Cornell (Ivy League Champion) by one goal in a close game.
Molly Coldren '08 earned her second Player of the Week honor from the Mid American Conference West Division. Coldren plays softball at Cenral Michigan University and this is the third time in her career that she has earned this honor.
Coldren Earns Second Player of the Week Honor
Notre Dame Prep grad Coldren sets CMU's HR Record in softball sweep of UDM (The Oakland Press, April 6, 2011)
Molly Winowiecki '10 led the Albion College softball team to a win over Concordia University with a 2-run single and her first career home run.
Jeff Bultinck '06 was named National Player of the Week by the NAIA after leading the Madonna University baseball team to a 6-0 week. He batted .625, went 15-for-24 and drove in eight and scored nine runs.
Sajel Tremblay '08 was named Southern Collegiate Athletic Conference Character & Community Female Student-Athlete-of-the-Week for the week ending December 5, 2010. Click here for full article
Rob Healy '08 scored his first goal of the season for The University of Michigan Men's Club Lacrosse team in a 20-1 win over Pittsburgh. Shutout Bid Falls Short in Lop-Sided Win over Pitt
Emily Gray '09 played in 15 women's soccer games at Kalamazoo College during the 2010 season and had 2 goals and 2 assists. She suffered an injury during the season but was able to come back and help the team at the end of the season.
Lauren Rao '09 swept the diving events for Albion College 169-115 win over St. Mary's College.
Destiny Tolliver '10 earns post-season honors
Tolliver named to AEC All-rookie team
Lauren Rao '09 won both diving events for Albion College in a meet against Kalamazoo College.
Katie Bloomgren '10 helped lead the Seton Hill volleyball team to an important WVIAC victory over Davis & Elkins.
Destiny Tolliver '10 helped lead The University of New Hampshire volleyball team to victory over Dartmouth.
Volleyball hands in-state rival Dartmouth its first loss of the season, 3-2
Emily Gray '09 scored a goal for the Kalamazoo College women's soccer team in a 2-1 win over Davenport.
Kyle McMahon '07 has transferred to Grand Valley State University and earned the starting quarterback job.
New Grand Valley State quarterback Kyle McMahon knows he shoulders a hefty tradition (The Grand Rapids Press, September 1, 2010)
Eastern Michigan transfer Kyle McMahon wins starting QB job at Grand Valley State (The Grand Rapids Press, August 26, 2010)
McMahon heads to Grand Valley State (Oakland Press, August 22, 2010)
Emily Gray '09 completed her first season of women's soccer at Kalamazoo College this fall. She received MIAA Offensive Player of the Week honors during the season. She had a goal and an assist in a win over St. Mary's and an assist in a win over Olivet on homecoming day.
Molly Coldren '08 currently leads the CMU softball team in batting average (.373), home runs (5) and RBI (19).
Coldren leads offensive resurgence for CMU softball (March 24, 2010)
Katy Durkin '06 has finished her career as a soccer player for Saint Mary's College. She was the leading scorer for the Belles her senior year.
Katy Durkin '06 scored two goals as St. Mary's earns their first conference victory of the season over Trine. She is the leading scorer for the team this season with four goals.
Kevin Michelcavage '09 scored two goals and was named the first star in his first Junior Hockey game for the Soo Eagles (September 17, 2009)
Eagles take it to the limit in opener against Thunderbirds
Katy Durkin '06 scores a goal as St. Mary's defeats Holy Cross in women's soccer. (September 3, 2009)
SMC Soccer: Belles beat Holy Cross easily to start season
Molly Coldren '08 was named to the MAC All-Freshman Team for softball. Coldren is an infielder for Central Michigan University. (July 1, 2009)
Coldren Selected to MAC All-Freshman Team
Rob Healy '08 scored three goals as a freshman for the 2009 University of Michigan men's lacrosse team. He was the only freshman to score all season. The team went 20-0 and won their second consecutive Men's Collegiate Lacrosse Association (MCLA) National Championship. (May 16, 2009)
Second Half Comeback Secures Second Straight Title
Lexie Kosik '08 earned her varsity letter in track and field as a freshman at the University of Vermont. She scored points in the discus and hammer throws.
Danielle Coldren '05 was named co-MVP of the 2009 Saginaw Valley State University women's tennis team as a senior. She was also named the MVP as a junior in 2008. (April 20, 2009)
Tennis Doles out Season Awards
Sarah Burns '07 completed her first Boston Marathon on April 20th in 3 hours 13 minutes. Emily Kutil '07 was there for support. Sarah earned her letter in track and field in the 2008-2009 indoor season, running the 3000m and 5000m. She also competed during the outdoor season, placing 10th in the 10,000m and 20th in the 5,000m at the Patriot Leage Championships.
Chris Fecek '03 has been selected as a recipient of the Alfred G. Wilson Award by Oakland University. He was a captain of the cross country and track teams at OU and is the current NDP school record holder in the 2 mile run with a time of 10:02. (April 15, 2008).
Piggott, Fecek Tabbed As Wilson Award Winners
Wilson, Human Relations awards presented to students
Brianne Wells '05 competed in the National Collegiate Cheer and Dance Team Nationals in Daytona Beach, Florida in 2007. Brianne was a member of the Western Michigan University Dance Team. This was the first dance national championship for WMU and the first dance national championship for any university in the state of Michigan. (April 2007)