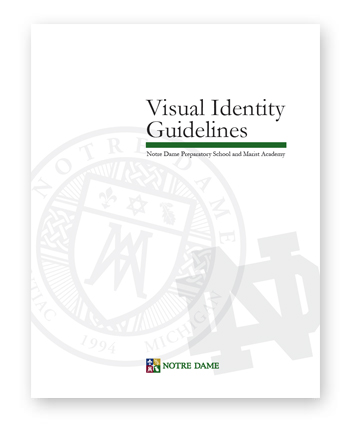 Notre Dame Preparatory School and Marist Academy's graphic identity, or its "signature," depicts the school's brand and represents the institution to the outside world. First introduced in 2008, it is critical that the NDPMA signature and its variations be appropriate and consistent going forward.
The pages in the guidelines book (available here) are for NDPMA staff, faculty and commercial partners who may be involved in communicating NDPMA's messages and identity. This manual applies not only to the "signature," but also addresses some of the other logos, mascots and symbols (such as the interlocking ND monogram and leprechaun) that are used on apparel and sports uniforms, etc.
The NDPMA identity was developed to take advantage of the inherent value of the Notre Dame brand. Please use these guidelines to ensure that the school's visual identity remains consistent in all manner of communication, whether it be in print, on the Internet, or on branded merchandise and collateral.