MISSION STATEMENT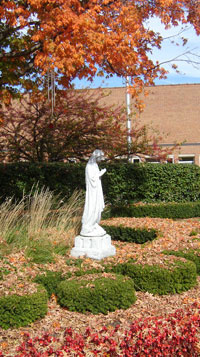 Developing good Christian persons, upright citizens and academic scholars, the Notre Dame Preparatory School Guidance and Counseling Department provides comprehensive, coordinated services including age-appropriate academic, personal, and career counseling while focusing on the individual student.
COUNSELING HOURS:
Mon.-Fri., 7:15 a.m. to 3:15 p.m.
Ph: 248-373-9649
Fax: 248-373-8024
NDP School CEEB Code: 233-040
Naviance: www.connection.naviance.com/ndps
Twitter: Follow @NDP_Counseling
GUIDANCE AND COUNSELING SERVICES INCLUDE:

Academic Advising
ACT Prep Workshops (Feb.-Apr.)
College & Career Counseling
College & Scholarship Applications
Crisis Intervention
Informal Presentations
Letters of Recommendation
Naviance Guidance

Parent Informal and Formal Meetings
Personal Counseling
Program Organization
Responsive Services
Student Interviews & Individual Mtgs.
Summer Institute
Test Coordinators
Tutoring Referrals

(Click here for middle-division Guidance and Counseling department – grades 6-8)
COUNSELORS

Jamie Rodda
Freshmen / Sophomores
A-L
jrodda@ndpma.org

Stacy Golliff
Freshmen / Sophomores
M-Z
sgolliff@ndpma.org


Jason Whalen
Juniors/Seniors
A-G
jwhalen@nd…org


Margie Willis Bond
Juniors/Seniors
H-O
mbond@nd…org


Vlado Salic
Juniors/Seniors
P-Z
vsalic@nd…org
COUNSELING ADMINISTRATIVE ASSISTANT

Wendy Pizzo
wpizzo@ndpma.org
SENIOR NOTES:
* Make sure to check Naviance and add your college selections.
* Make sure you keep a list of all your scholarships you have been awarded.
* Sign up on Naviance for any college rep visits.
JUNIOR NOTES
* Sign up on Naviance for any college rep visits.
Go to www.actstudent.org to sign up for ACT and to see a schedule of upcoming dates (our CEEB code is 233-040).
* Juniors should register and take the ACT and/or SAT at least once prior to Senior year.
WHY TAKE THE ACT? Click Here.
To register for the ACT test, go to: www.actstudent.org
For SAT, go to: www.collegeboard.com
NDP is a national ACT testing site (code 201480).
Use NDP school CEEB code 233-040 when registering for the ACT.
Winter and Spring breaks as well as days off throughout the year can be excellent opportunities to visit your prospective colleges. Schedule your visits at least two weeks in advance.
* Juniors and their parents: Opportunities for admission are often directly related to student academic performance and proper early preparation. Your counselor can be a good resource for you. Take a look at the "Junior to do list" for general guidelines. www.ndpma.org/drupal/webfm_send/4725. Helpful links and information regarding college and ACT preparation have been posted on Naviance. Students will be receiving additional information during their individual interviews with their counselor.
* The college application process can be overwhelming and confusing especially to first time Junior parents. Come find out what colleges and your students are not telling you about their applications. We are here to help! The Counselors are continuing to make themselves available for small group meetings. Individual appointments are also available. Parents who would like some information and guidance on the application process, Naviance, Scholarship and financial aid info, would like some specific questions answered, or just would like to get to know their student's counselor a little better, should contact Mrs. Pizzo in the counseling office at 248-373-9649 to check on meeting availability. Having smaller groups of parents allows us to provide a more personal atmosphere and allow plenty of opportunity to have your questions answered.
Juniors and Sophomores… Many universities offer some sort of pre-college summer camps, providing students with an opportunity to explore various career fields and develop leadership skills. Consider doing a summer camp, job shadowing, internship, or part time job in the career field of your interest. This experience may make you more desirable to college admission representatives. Check out this link for additional info
FRESHMEN NOTES