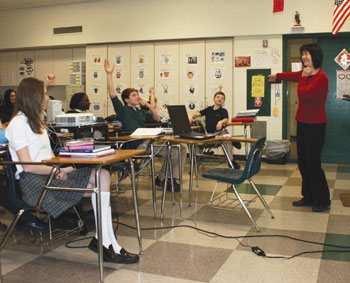 Notre Dame Preparatory School and Marist Academy is committed to attracting, encouraging and retaining a highly qualified workforce to support its mission of forming Christian people, upright citizens and academic scholars. Renowned especially for its academics, Notre Dame's success is the result of a diverse faculty and staff coming together to help shape the lives of young men and women.
All three divisions of NDPMA are International Baccalaureate "World Schools."
Notre Dame has two beautiful classroom facilities: at 1300 Giddings Rd., housing the upper (9-12) and middle (6-8) divisions; and the lower (JK-5) division at 1425 Giddings Rd.
For those of us who are employed at NDPMA, there's more to the school than work. NDPMA offers excellent faculty and staff benefits, and it is itself a center of faith, learning and culture.
Notre Dame Preparatory School and Marist Academy is an equal opportunity/affirmative action employer.
NDPMA Teacher and Staff Member profile: (click here)
NDPMA Employment Application: (click here)
---
Current academic and staff openings:
Lower Division Music Teacher
Full Time certified music teacher needed for the Lower Division. Responsibilities include teaching weekly chorus lessons to JK-5th grade students (preparing for two yearly concerts), beginning and intermediate band, directing volunteer chorus, assisting with the yearly school play.
For complete job description and responsibilities, please click here. If you are interested in this position, please forward a resume and cover letter to Diana Atkins at datkins@ndpma.org.
Part-time bus driver
There is an opening for a part time bus driver for field trips and after-school athletic team transportation. Applicants should have CDL, B, P&S endorsements with air brakes, but will train the right person. Applicant must submit to drug test and background checks as required by law. Please send cover letter and resume to Larry Jack at ljack@ndpma.org.
---
Current athletic openings:
Assistant girls tennis coach: Please send resume and a list of references to Maureen Radulski, Assistant Athletic Director at mradulski@ndpma.org.
High school athletics intern: Intern will hold multiple responsibilities in a fast-paced environment including, but not limited to, uniform/equipment inventory, game management and set up, scheduling, venue maintenance, assisting in development of online leadership class, assistance with media guides, multiple projects, etc. This is a meaningful internship and the intern will walk away with a clear understanding of high school athletics. Start/end dates are flexible. Accepting resumes on a continuing basis for the fall, spring and summer semesters. Please send cover letter and resume to the athletic director Betty Wroubel at bwroubel@ndpma.org and asst. athletic director Maureen Radulski at mradulski@ndpma.org.