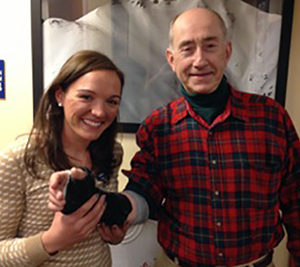 Notre Dame High School meets Notre Dame Prep in Vail, Colorado, as Bill Parish, a 1966 graduate of NDHS in Harper Woods, finds out the person who is attending to his ski injury at a medical clinic is a 2008 graduate of NDP.
Let's let Parish explain:
"The young lady in the pictures I am sending you is Chase Rogowski. She is an athletic trainer and medical assistant working at the Steadman Clinic in Vail, Colorado (where skier Lindsay Vonn gets put back together from time to time).
"I live about 30 miles down valley from Aspen and while skiing in December, I fell and severed a thumb ligament. A few weeks after surgery, Chase was taking out the stitches and I asked her where she was originally from (ski-area populations are very transient) and it came up that she graduated from ND Prep in 2008. What a small world!"
Parish, who is a professional musician living in Carbondale, Colorado, has performed over the years with the Detroit Concert Band, Bob Hope, Tex Beneke, Ramsey Lewis, Smokey Robinson and Lee Ritenour among many, many others. He is currently leader of the 22-piece Bill Parish Orchestra, the Little Big Band, the Power Company, and several classical and jazz/contemporary duos, trios, quartets and quintets in Colorado. He taught for six years at the Berklee College of Music in Boston, and is heard on flutes, clarinets, saxophones and vocals.
Rogowski is a certified athletic trainer working at the Steadman Clinic in Vail. She graduated from Michigan State University in 2012 with a bachelor's degree in athletic training. While at Michigan State, she worked with Spartan football, cross country, track and field and women's rowing. She also served on the e-board of the student-run athletic training club, "E-STIM: Education Students in Sports Medicine." She has worked as a first aid provider with Varsity Brands at various cheerleading and dance camps throughout the Midwest. In May of 2014, Chase graduated with her master's degree in kinesiology from the University of Illinois where she worked with women's swimming and diving, and cheerleading.

Comments or questions? mkelly@ndpma.org.
Follow Notre Dame on Twitter at @NDPMA.
About Notre Dame Preparatory School and Marist Academy
Notre Dame Preparatory School and Marist Academy is a private, Catholic, independent, coeducational day school located in Oakland County. The school's upper division enrolls students in grades nine through twelve and has been named one of the nation's best 50 Catholic high schools (Acton Institute) four times since 2005. Notre Dame's middle and lower divisions enroll students in jr. kindergarten through grade eight. All three divisions are International Baccalaureate "World Schools." NDPMA is conducted by the Marist Fathers and Brothers and is accredited by the Independent Schools Association of the Central States and the North Central Association Commission on Accreditation and School Improvement. For more on Notre Dame Preparatory School and Marist Academy, visit the school's home page at www.ndpma.org.