At Notre Dame since 1999, Pete Riley loves that the school never rests on laurels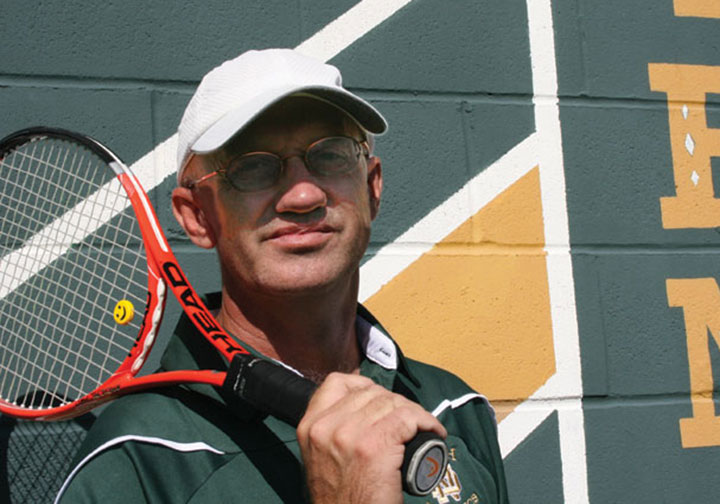 (This article was published in the September-October 2013 edition of "The Blarney Stone," Notre Dame's school newsletter.)
Notre Dame upper-school social studies and political science teacher Pete Riley thinks one of the most important parts of his job is making sure his students understand how and why, not just what they learn in the classroom. "To me education is more about the 'process' of learning than the results," he says.
Which fits perfectly with Notre Dame's education philosophy, particularly with its International Baccalaureate curriculum since a big part of this innovative program is concerned not just with "right" and "wrong," but rather with the quality of justification and a balanced approach to knowledge.
Balance in education, Riley says, or the lack thereof, is one of reasons he decided to become a high school teacher after realizing his own public high school experience fell short compared with some of his fellow college students. "After my first year at the University of Detroit, I realized that my high school education was inadequate for college," he says. "I was taught the basics but never was taught how to think on different levels, become independent and have self-discipline. At U-D, I met many students who were graduates of Catholic schools and they seemed to all have those qualities." He felt that by becoming a teacher, he could do his part to help other students develop those same qualities.
Riley, who also coaches men's and women's tennis for the Fighting Irish, came to Notre Dame mid-way through the school year in 1999. But it wasn't his first teaching job. He had spent 12 years teaching within the alternative and adult education program at the Avondale and Rochester school districts, working primarily with students from troubled backgrounds. When he got to Notre Dame, he realized very soon that it was more than a little different than what he experienced at Avondale.
"The students at Avondale's alternative education program were not always motivated to succeed in the classroom," he says. "At NDP, the students were highly motivated and seemed very happy to be at school, which was really new to me. Also, the faculty included great people who were always willing to help me out if I had any questions."
He says what has continued to impress him since joining the Notre Dame family is that the school seems to constantly be in a state of change. "We do not rest on our laurels. We always seem to be at the forefront of education." Take the IB program, for example, he says. "When we became an IB school, it appeared that other schools in the area were soon following our lead."
Even with a full complement of daily classes along with two seasons per year of coaching tennis, it isn't always Notre Dame all the time for Riley. He is a big fan of the Detroit Tigers and Red Wings, and enjoys playing tennis for fun. He also manages to carve out plenty of time for his family. He lives in Troy, not far from where he grew up, with wife, Susan, and daughters Maddie, who graduated from NDP last spring, and Olivia, currently a junior at NDP.
When asked what he might do if he wasn't teaching school, Riley says he'd like to be an airplane pilot who flies into remote areas far from civilization. "This would take care of two of my favorite things—flying and discovering new places."

Follow Notre Dame at @NDPMA.

About Notre Dame Preparatory School and Marist Academy
Notre Dame Preparatory School and Marist Academy is a private, Catholic, independent, coeducational day school located in Oakland County. The school's upper division enrolls students in grades nine through twelve and has been named one of the nation's best 50 Catholic high schools (Acton Institute) four times since 2005. Notre Dame's middle and lower divisions enroll students in jr. kindergarten through grade eight. All three divisions are International Baccalaureate "World Schools." NDPMA is conducted by the Marist Fathers and Brothers and is accredited by the Independent Schools Association of the Central States and the North Central Association Commission on Accreditation and School Improvement. For more on Notre Dame Preparatory School and Marist Academy, visit the school's home page at www.ndpma.org.