Students in NDPMA's lower division opened the new school year in a beautiful new building on the Pontiac campus. It didn't take them long to get used to their new digs and it didn't take long for them to move into their International Baccalaureate Primary Year Program (IB-PYP) studies, which this year are aided by newly acquired iPad learning tablets.
The following is a grade-by-grade summary of the lower division's activities to date in Phase 1.
Junior-kindergarten: Who We Are: Ourselves and Others. Junior kindergarten students, Notre Dame's youngest, were very excited to start school and get to know one another. For many, this is their first experience in a school setting. They learned how to share and work with one another.
Kindergarten: How We Organize Ourselves: Saved by the Bell. A new group of kindergartners was recently approved for membership in the Kindergarten Expert Club. This new group has taken an oath of being responsible, safe, respectful and ready to learn. This essential agreement was created by the Kindergarten Experts as members of the Notre Dame school community. In Phase 2, the kindergarten class will be learning about weather and the five senses.
First grade: How the World Works: Super Systems. The first grade class went on a field trip to the Ann Arbor Hands-On Museum, where the students had an opportunity to explore, discover and uncover how the world works through the museum's spectacular exhibits. They also participated in a hands-on, inquiry-based lab using magnets. They learned about magnetic and non-magnetic objects, poles of a magnet, repel and attract and neodymium magnets. A neodymium magnet is the most powerful magnet on Earth. In fact, it can go through your hand. The first graders had a full day of exploration and fun. In Phase 2, the first graders will be looking at communities, how they are organized and how they are different, depending on location.
Second grade: Sharing the Planet: Where the Wild Things Are. The second grade unit of inquiry strongly focused on habitats, life cycles and learning the continents and oceans. This unit was full of activities, including a field trip to Dinosaur Hill Nature Preserve, making habitat murals, writing a letter to conservation organizations and making habitat projects in class. In Phase 2, the second grade will be looking at history and how it affects our present and future.
Third grade: Who We Are: Early Times. The third graders have been working on how Native Americans have impacted our lives. The students have inquired into human relationships, cultures and perspectives. They also were able to make connections by reading stories about Native Americans and thinking about different connections to human relationships and their culture. Third graders also worked on cooperative group projects that helped them see a different perspective of how we live today and how Native Americans lived long ago. In Phase 2, third grade will be looking at historical timelines, geography and natural resources.
Fourth grade: How We Express Ourselves: Once Upon a Time. In this unit, the fourth graders focused on the theme "How we express ourselves." The central idea allowed the learners to look at a variety of written text. They read several tall tales and then created their own to show an understanding of the concept. The tall tales currently are hanging outside both fourth grade classrooms. In Phase 2, fourth graders will be learning about migration, exploration and discoveries.
Fifth grade: How We Express Ourselves: Apply It! In preparation for moving into Notre Dames's middle division next year, both fifth-grade classes inquired into how learning styles can affect how people study and learn. Each student researched their learning styles and joined with other students of similar characteristics to find strategies that will enhance their strengths and lessen their weaknesses. Students showed and demonstrated what they learned by writing a report and making a visual and oral presentation in front of the class. In Phase 2, fifth grade will be learning about choices and how those choices impact their lives, the functions of the body and responsibilities for body health.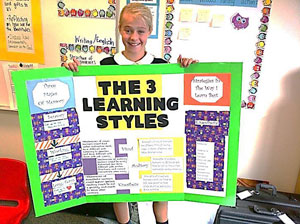 Follow Notre Dame at @NDPMA.

About Notre Dame Preparatory School and Marist Academy
Notre Dame Preparatory School and Marist Academy is a private, Catholic, independent, coeducational day school located in Oakland County. The school's upper division enrolls students in grades nine through twelve and has been named one of the nation's best 50 Catholic high schools (Acton Institute) four times since 2005. Notre Dame's middle and lower divisions enroll students in jr. kindergarten through grade eight. All three divisions are International Baccalaureate "World Schools." NDPMA is conducted by the Marist Fathers and Brothers and is accredited by the Independent Schools Association of the Central States and the North Central Association Commission on Accreditation and School Improvement. For more on Notre Dame Preparatory School and Marist Academy, visit the school's home page at www.ndpma.org.